Skip to Content
Hearing Aid Batteries in Florida
Choosing the Right Hearing Aid Batteries in Estero, FL
The right hearing aid batteries ensure your hearing aids work properly, last longer, and allow you to take part in every important moment in your life. High-quality hearing aid batteries can improve the functionality of your hearing aid and allow it to operate at full capacity. Because not all hearing aid batteries are created equally, choosing the right ones for your hearing aids can make a world of difference.
At Florida Gulf Coast Hearing Center, we carry a wide range of hearing aid models and hearing aid batteries in Naples and Estero, FL, and we only stock the highest quality products so our customers get the best performance possible for their money.
Types and Sizes of Hearing Aid Batteries
Hearing aid batteries are available in different sizes, brands, and styles. The two most common types of hearing aid batteries are rechargeable batteries, which come in lithium-ion or silver zinc; or disposable button batteries, which are typically zinc-air. Many professional hearing centers allow you to drop off old, dead disposable batteries for recycling.
Rechargeable hearing aid batteries – Much like other types of rechargeable batteries, rechargeable hearing aid batteries require a power plug or device that supplies them with power when they are not in use. Most need to be recharged on a daily basis. Companies that manufacture rechargeable hearing aid batteries include Audious, Starkey, Signia, Miracle-Ear, and Oticon. The battery life of each manufacturer's rechargeable hearing aid may vary, but most offer around 30 hours of use with each charge.
Disposable hearing aid batteries – Disposable hearing aid batteries are lighter and less expensive than rechargeable batteries. They are typically sold in four sizes and can last between three days and 22 days.
Hearing aid batteries also come in a range of common, standardized sizes. Your particular hearing aids may only be able to accommodate a certain battery size, thus limiting your options. The most common sizes, in order from smallest to largest, are:
Size 10 (yellow) – Used in the smallest hearing aids like mini-receiver in-ear hearing aids and completely-in-the-canal hearing aids. Can last between three and seven days.
Size 312 (brown) – Used in small behind-the-ear hearing aids. Can last between three and 10 days.
Size 13 (orange) – Used in behind-the-ear hearing aids that are medium or large in size and offer high levels of sound amplification. Can last between six and 14 days.
Size 675 (blue) – Used in powerful hearing aids that offer maximum sound amplification, like bone-anchored hearing aids and behind-the-ear hearing aids. Can last between nine and 20 days.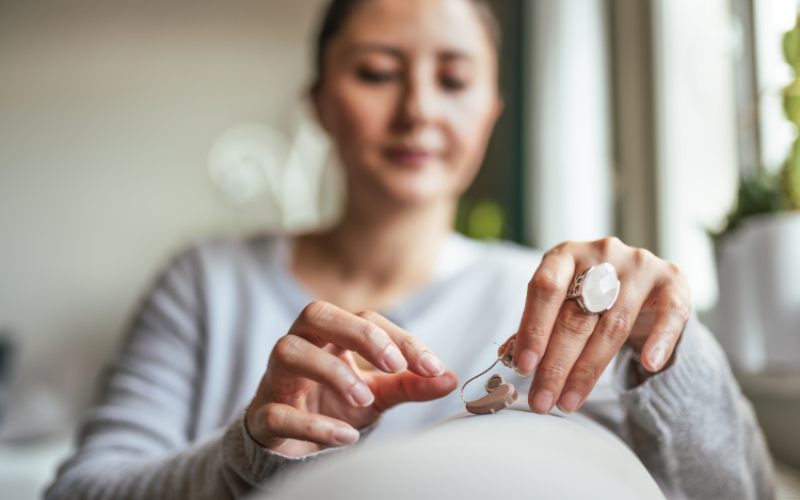 How Long Do Hearing Aid Batteries Last?
The length of time your hearing aid battery lasts can depend upon the quality of the battery, size, manufacturer, how often it's used, the number of control functions on your hearing aid, and the amount of streaming you do. In order to ensure you always have use of your hearing aid, it's a good idea to always carry a spare battery with you, and/or bring your rechargeable hearing aid battery's charging device with you if you'll be away from home for a while.
Rechargeable hearing aid batteries can last between 20 and 30 hours of moderate use. Disposable batteries may last between three days and three weeks, depending on size and usage.
Useful Hearing Aid Battery Care Tips
You can maintain the lifespan and safety of your hearing aid batteries by caring for them appropriately when not in use. Follow these tips to care for and maintain your hearing aid batteries:
Store them at room temperature and do not refrigerate them.
Wash your hands before handling batteries, as grease and dirt can damage your hearing aid.
Leave the battery compartment of your hearing aids open at night to allow moisture to escape. This will prevent the battery from corroding and thus damaging the hearing aid.
Always remove dead batteries right away, as a discharged battery can become swollen and hard to remove.
Keep unused batteries away from coins, keys, or other metal objects to prevent discharging.
What Is the Five-Minute Rule for Hearing Aid Batteries?
The five-minute rule for hearing aid batteries is advice that states that after removing the tab from your battery, don't immediately put it into your hearing aid. Instead, wait five to seven minutes to allow the air to properly activate the battery. This can extend a battery's life by up to three days.
Contact Us Today for Reliable Hearing Aid Batteries in FL
If you're looking for high-quality, affordable hearing aid batteries in Naples and Estero, FL come see us at Florida Gulf Coast Hearing Center. We sell new hearing aid batteries from a variety of leading manufacturers, and can help you choose the correct batteries for your hearing aid. We also sell hearing aids, and offer comprehensive hearing services throughout Southwest Florida. Call us today at (239)514-2419 or contact us online.